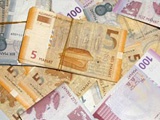 The Society of Garabagh war invalids intends to launch a public campaign against corrupted officials of the Executive powers and Ministry of Labor and Social Protection, who demand money from war veterans for giving out wheelchairs, OЛA passenger cars and flats to them.
All these services are free of charge under the law of the Azerbaijan Republic.
According to spokesman of the Society Ray Kerimoglu, war invalids have to pay AZN 15,000-30,000 for a two-room flat, depending on its location, AZN 20-30 for free wheelchairs and AZN 500-700 for OKA car.
The war invalids usually do not want to declare the facts of briberies, and refuse to write complaints, but the Society of Garabagh war invalids intends to put an end to this lawlessness.
The leaders of the Society will soon hold a press conference to appeal to the President.
Kerimogly told Novosti-Azerbaijan that the corrupt deal includes the NGO "Society of Garabagh war invalids martyrs' families and war veterans", which compiles a list enabling war invalids to get "free" flats, cars and wheelchairs.