President of Azerbaijan Ilham Aliyev will visit Ukraine to take part in energy summit in May, Novosti-Azerbaijan reports with reference to the Embassy of Azerbaijan to Ukraine.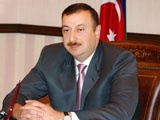 The head of Azerbaijani state will deliver a speech at the summit.
Moreover, Ilham Aliyev will hold a number of bilateral meetings with the heads of states and senior officials of different countries, participating in the summit.
The decision to hold the energy summit in Kiev in 2008 was passed by Presidents of Ukraine, Azerbaijan, Georgia, Lithuania and Poland at the Vilnius energy summit in October 2007 and fixed in a joint communique, signed by the Presidents of the five countries by results of the meeting.