"Azerbaijan is able to export drinking water to neighbouring countries if applied," chair of Azerbaijan State Water Company (Azersu), Nizamaddin Rzayev told a press conference.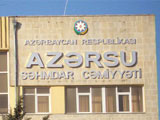 He clarified that the country can supply potable water to Central Asia, especially Kazakhstan and Turkmenistan, APA reports.

"But, they have not applied Azeri government for this," he added.

A while ago, the government of Azerbaijan had discussion on delivery of drinking water to Israel.