The supply of natural gas to Zagatala was stopped.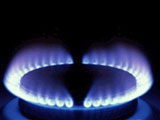 Residents of the region told the APA Sheki-Zagatala bureau that the supply of natural gas was stopped from early Wednesday morning.
Zagatala Gas Supply Department (GSD) told the APA that, the reason is gas leakage in Sheki-Balaken main pipeline. Aghdash Pipeline department told Zagatala GSD that supply of natural gas to Oghuz, Gabala, Khaldan, Sheki, Gakh, Zagatala and Balaken was stopped. Gas supply will be resumed after construction is over.