The World Bank has released its forecasts for macroeconomic growth of Azerbaijan in before-2010 period within the Country Partnership Strategy (CPS) for Azerbaijan, a central document defining the World Bank Group's support to Azerbaijan to meet the country's key development challenges, including reducing poverty, modernizing infrastructure, and improving governance and social services.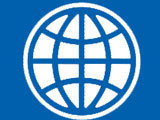 The World Bank Office in Baku told the APA that real gross domestic product growth is forecasted to be 27.1% in 2007, 19.9% in 2008, 11.6 in 2009 and 5.7% in 2010, non-oil sector growth will become 8.4%, 8.1%, 6.8% and 6.8% in these years respectively.
Inflation rate will reach 17% in 2007 and 2008, falling to 13% in 2009 and 10% in 2010.
According to the outlook, the gross national income per capita will stand at $1,650 in 2006 and rose to $2,400, $3,330, $3,940 and $4,450 in the following years, net foreign direct investment flow will fall from $1,539 per capita in 2006 to $4,120, $1,456, $667 and $81 in the next years correspondingly.
During 2006-2007, foreign investors will repatriate their capitals and 1/2 of the national income will go away from the country.