The Transport Ministry of Azerbaijan intends to request the Government for more rises in the bus fares for Ganja, Sumgait and other big cities because of the hike in fuel prices.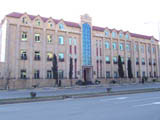 The Ministry spokesman Namig Hasanov told the APA that the drivers are demanding the rise of bus fares.
Saying the Ministry is considering the issue, he didn't rule out that the charges for railway and other transportation facilities would be increased.