Trade and economic exchange between Iran and Azerbaijan increased 30% in 2006, Iranian Ambassador to Azerbaijan Afshar Soleimani said.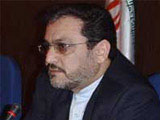 Speaking in a live televised program in Azerbaijan, Soleimani added that the two countries increased their trade exchanges to more than $ 500 mln of which 370 mln $ is Iran's export to Azerbaijan.
Underlining the need for improving economic ties and increasing trade exchanges between the two neighboring countries, Soleimani added that Iranian companies have so far invested some $ 300 mln in Azerbaijan.
Touching on holding two economic sessions between Iran and Azerbaijan in Baku in 2006, he said that if regulations of issuing visa are revised by the two countries, an increase in carry-on trade and economic relations will happen more than ever.
"Iran has increased its annual non-oil exports to more than $ 15 bln, and is able to invest in industrial and agricultural sectors in Azerbaijan," he noted.
Pointing to increasing cooperation in the two sides' energy sector, the ambassador said that the amount of electricity exchange tween the two countries including Iran's power export to Nakhichevan Republic is 200 megawatts per annum which will increase to 700-800 megawatts after the construction of the electricity transfer line in the Central Asian country.
Iran has allocated $75 mln for implementing the project of which some 50% has been done and will become operational in the current year, he added.
Turning to the tours conducted by the two sides' presidents and other officials as a major factor in speeding up mutual ties, he said that President Mahmoud Ahmadinejad and his counterpart Ilham Aliyev will continue the tours in the new year.
Iran supports the settlement of Karabakh issue within the framework of regional cooperation, because the foreign powers will resolve the dispute based on their interests, he added.
Referring to holding talks to resolve problems related to the Caspian Sea, Soleimani added that all five littoral states agreed to settle different issues of the sea including legal and environmental issues with consensus, therefore, Iran and Azerbaijan negotiate within the framework.
Responding to a question on the US efforts to intervene the issues of the Caspian Sea and construction of Iran's oil and pipelines in the basin of the sea, he said that the West and the US will not be able to access their goals because of new developments and vigilance of the regional countries.
He also replied a question on the US threats over Iran's nuclear program and adoption of the recent resolution in the UN Security Council, adding that Tehran's nuclear program is fully peaceful and under the supervision of the UN International Atomic Energy Agency (IAEA).
"Imposing sanctions against Iran will never discourage Iranian people and government in expanding civilian nuclear activities and achieving the technology," he added.
"The world is not comprised of just the US and certain member states of UNSC, but the most of 190 countries worldwide have supported Iran's nuclear program and opposed to the West's pressure on the country," he noted. IRNA