Prediction of State Oil Company on oil production will be approximately 8 million 750 thousand tons by the end of year.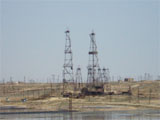 APA was informed from Industry and Energy Ministry, department of fuel-energy operations. The volume of gas to be produced by the company directly will be decreased too in the late of the year.
Stating that decrease of gas production is temporary in Azerbaijan, the Minister said that gas production is expected to increase by the exploitation of the new wells in "Guneshli" deposit next year. More than 20 gas wells are planned to be drilled in the new platforms in the offshore of "Guneshli" in 2006.Construction of compressor-equipment for compressing the gas of law pressure and the project on transportation of this gas to the shore are also considered to be realized.
The equipment to be constructed in the deposit "Guneshli-4" will make it possible to get 1 million cubic meters of gas per day and this will led to double reducing the gas import to Azerbaijan from Russia in 2006.