German investment company DEG, entering group of companies of German bank of development KfW, allocated credit line to Azerbaijan bank "Respublika".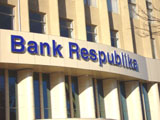 The agency Trend reports, this was informed during th press conference, hold in head office of the bank 28 April. The credit line in amount of $ 2 mln was allocated for financing of small and middle entrepreneurship and for trade financing.
The head, the chairman of management of bank Asaf Namazov informed, loan is allocated for 5 years period with 2year privilege period under Libor+5%. It is planned, finances cof loan line are to be divided between financing of IS? and trade financing with ratio 1,5/0,5.
In his turn, the head of Supervision board of bank Elchin Namazov informed, loans are ot be allocated in amount up to $350 thousand. He said loans are to be allocated for realization of production projects.