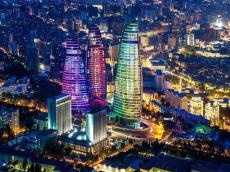 By Azernews
By Amina Nazarli
Today when distance became more reachable, the world provides many options for a good pastime and the opening of new destinations. Since of plenty of attractive varieties, visitors often give preference on the most popular and frequent offers.
And so in order not to get stuck among the thousands of suggested tempting options, promotion plays a vital role to advertise any destination and can help to modify the tourist behavior by ensuring the repeat visitor continue to purchase the same product instead of switch to another destination.
Promotion in tourism helps to draw the attention of the potential tourists, modify the behavior of the existing buyers and influence them to visit a destination.
To put forth the best possible image of its destination, Azerbaijan is also working on attracting and creating interest of its capital city on a broad scale.  
The Baku brand may be ready in the coming months, said Kenan Guluzade, spokesman of the National Bureau of Tourism Promotion.
He told Trend that active work is underway to create a brand, and in this regard, negotiations are being conducted with two international companies, which specialize in making brands of the most popular cities and capitals of the world.
Guluzade noted that these companies offer their projects and it is necessary to make a choice between them.
"This is a conceptual approach, in other words, how we present Baku to foreigners, to which tourism market and from which side we want to show Baku," he added.
Baku, the capital and largest city of energy-rich Azerbaijan, has already turned into one of the important and most-visited tourist destinations in Asia in the last decade.
Despite this huge potential, Azerbaijan still  is not very popular on tourist maps, while the state is working hard to include the country in travel bucket list of thousands travelers.
Tourism promotion means trying to encourage the actual and potential customers to travel a destination through the spreading of information. Promotion is one of the most effective marketing mix elements used in marketing a tourist product.
The potential of the country as a whole has been already promoted and many influential TV channels and magazines have wonderful review on "The Land of Fire."
But, the state wants to highlight its capital Baku, the largest city in the Caucasus region, was known throughout the world.
Baku, a city of contrasts, has always something new to discover. And increasingly, Baku is becoming known as a tourist destination. Mature travelers and young backpackers are coming to Baku in greater numbers.
Over the last decade, Baku has expanded tremendously with a number of skyscrapers, shopping malls, restaurants and hotels. Tourism in Baku is booming so much that it's becoming a trend destination for many neighboring and remote tourists to get away for a weekend.