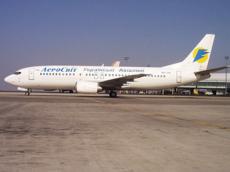 Ukrainian airline AeroSvit, which began bankruptcy proceedings, will cease making Kiev-Baku flights starting in February of 2013, the airline's Baku office told Trend on Wednesday.
According to the office, the airline will make flights on this route until late January 2013.
"Kiev-Baku flights will be made until late January", the office said. "The airline will stop making flights to Baku starting in February".
According to the office, another Ukrainian company "Ukraine International Airlines" will completely take over the Kiev-Baku route in February.
The Heydar Aliyev International Airport told Trend today that flights to Baku are made with delays due to the Ukrainian airline's financial problems.
According to the airport, Ukraine International Airlines has been already making flights to Baku. The airline's aircrafts fly from Baku to Kiev on Mondays, Thursdays and Saturdays at 09:35 Baku time.
/
Trend
/