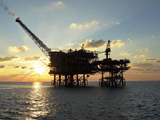 In January-August, 2012, state organizations and NGOs of Azerbaijan and different individuals conducted trade operations with 146 countries.
The State Statistical Committee told APA-ECONOMICS that foreign trade turnover amounted USD 29,1 billion in reporting year, USD 6 billion bln fall to import's share and USD 23,1 billion to export's share. As a result, positive balance in amount of USD 17,1 created.
Trade turnover in comparison with previous year increased by 63,5%, including import – 1,7%, export – 49 % and positive balance by 10 times.
"Exports of non-oil products made USD 1 001,3 mln in the first 8 months of the current year and it was higher by 5% from the level of January-August, 2012" – the Committee said.
84,3% of foreign trade operations were carried out with Italy, Israel, the US, Russia, Indonesia, Turkey, Germany, France, India, China, the UK, Bulgaria, Georgia, Czech Republic, Taiwan (province of China), Greece, Ukraine, Singapore and Tunis and 15,7% with the other countries.
/
APA
/