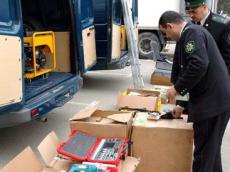 During January - July 2012, the State Customs Committee (SCC) has revealed 112 criminal facts related to smuggling, the committee told Trend on Saturday.
Some 46 cases of illegal drug trafficking were revealed and, as a result, more than 16 kilograms of narcotics and more than six kilograms of psychotropic substances were seized.
During the reporting period three cases of evasion from payment of customs payments, four facts of no return of currency from abroad were revealed.
During the first seven months in connection with customs violations 187 people were charged. During the reporting period 44 other criminal facts were recorded.
For the last period the SCC revealed 9248 administrative violations.
/
Trend
/