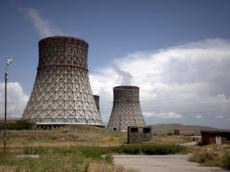 By AzerNews

Despite the international community's protests, Armenia is trying to extend the activities of its outdated Metsamor nuclear power plant.
The new government's program for 2014-2017, approved on May 19, shows that it plans to launch the construction of a new power unit at the NPP in 2018.
"The government's policy in this respect will be directed at improving the country's energy security," the program reads.
The previous government removed the construction of a new power unit from its program in 2013, deciding to extend the life of the second power unit and increase its security. The program envisioned the complete closure of the existing power units in 2018, when the third power unit would already be put into operation.
The new government also intends to continue improving the safety of the second power unit at the Metsamor NPP.
Armenia intended to sign an agreement with the Russian government to get loans and start the Metsamor nuclear power plant project by May 1, 2014.
The government decided in March to extend the operation period of Metsamor's second unit and start the construction of a new nuclear power plant at the same time.
But Russia seems not to hurry to allocate loans to Armenia for this project so far.
Metsamor NPP is a real nuclear threat for the region. Built in 1970, it was closed down after the devastating earthquake in Spitak in 1988, but resumed its operation in 1995 despite international outrage.
The international community and regional countries like Azerbaijan, Turkey, and Georgia have repeatedly urged Armenia to close the dangerous power plant immediately.
The European Commission recently called Armenia to work towards the earliest possible closure of the Metsamor NPP, but Armenia does not attach any particular importance to nuclear safety.
Armenia intends to operate Metsamor NPP, which does not meet current safety standards, till 2026.