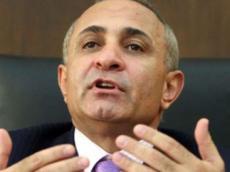 By AzerNews
The statements of Armenia's newly appointed Prime Minister on economic development do not differ from those of his predecessor Tigran Sargsyan.
"Favorable conditions will be created for small and medium-sized businesses. We will take positive steps for the small and medium enterprises in the near future," Ovik Abramyan recently said at a government meeting.
Abramyan's government also intends to take serious steps for attracting large-scale investments.
However, local media called oligarch Abramyan's statement on small and medium enterprises (SMEs) as abstract.
"His statements raise many questions. How can Abramyan support the development of small and medium-sized businesses at a time whenhe, being an oligarch, hampers this?" the media reports.
Following his appointment, Abramyan rapidly increases his income sources, the local media reported.
"Construction work at the enormous restaurant complex and the giant supermarket which Abramyan owns in Yerevan has been activated since his appointment as the Prime Minister," the media notes.
Armenia's small economy suffers seriously from monopoly, as monopolies and oligopolies hold about 60 percent of the share in the Armenian market, the World Bank's report on "Republic of Armenia: Accumulation, Competition, Cooperation" published in November 2013 shows.
The local media also reported that only small and medium-sized businesses that are under the roof of the oligarchs or officials are protected.
Meanwhile, the role of the SMEs, which mainly engaged in retail and wholesale trade, is decreasing in Armenia. Almost 1,500 small trade entities were closed in one year.
Abramyan's statements on increasing foreign investments can also be considered abstract, as even potential Armenia-based investors abroad do not have enough confidence in Armenia's investment climate.
Armenia is rapidly losing its attractiveness for foreign investments every year.
Foreign direct investments (FDI) in the country decreased by 35.3 percent compared to 2012, reaching $4.692 million. These figures were not recorded even during the global financial crisis in 2009, when the volume of investments in Armenia decreased by 25.8 percent.
The Armenian society believes Abramyan's statements regarding economic development will just remain statements. How the oligarch "protector" of Armenian SMEs will combat the power of oligarch businessmen remains to be seen.