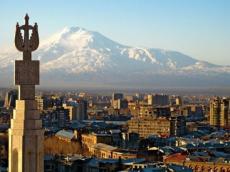 by AzerNews
Armenia's total amount of state debt increased by $216.4 million to roughly $4.6 billion in 2013.
The lion's share in the structure of the state debt belongs to foreign debt amounted to more than $3.9 billion, up by about $164.7 million year on year, the Armenian National Statistical Service reported.
Socio-economic indicators for 2013 clearly confirm that Armenia has turned into a country with increasing amount of state debt.
The figure appears on the background of a recent report published by the Global Financial Integrity, which suggests that during the period between 2002 and 2011, some $6.2 billion has been illegally taken out of Armenia as a result of government corruption, tax evasion and other illicit financial dealings.
The Armenian government was not able to ensure seven percent economic growth in 2013, which President Serzh Sargsyan instructed to achieve at the beginning of the year warning that otherwise the government should resign. National Statistical Service officially has reported that the economic growth rate amounted 3.5 percent in 2013. Sargsyan has not yet demanded the resignation of the government.
Former Prime-Minister, MP Grant Bagratyan said an official growth rate is more than suspicious.
"The same official statistics reported that there was 16.4 percent of growth in agriculture on December 2013. This growth is unreal in cold winter," he noted.
He said that official statistic indicators are catastrophic.
"If 5,000-7,000 people left country five years ago when I was a prime minister, now this indicator has increased to 42, 000," former PM noted.
On this background the Armenian Ministry of Economy squandered nearly 7 million drams ($17.152) in 2013. The ministry directed the money to 20 restaurants, souvenirs, sport shoes and socks for the staff, the government's official web site reported.
The worsened economic indicators naturally deeply affect the main social indicators. The population and birth rate declined in 2013. The number of Armenia's population declined 9,500 people and was 3,170,400 people at the beginning of the year.
A total of 41,770 children were born in 2013, 1.7 percent reduces in comparing with 2012.
The number of marriages decreased and the number of divorces increased in 2013.
As many as 18.363 marriages were registered in Armenia in 2013, while the figure was 19.063 in the previous year. In this period 3.756 divorces were registered, which 15.6 percent more than in 2012.
The complicated living conditions force even women and minor to commit a crime. The number of crimes committed by women and minors increased in 2013. 352 minors committed crime in 2013, while the number was 349 in 2012. The number of criminal-women amounted 1613, increasing 193 people compared with 2012.
2013 has not laid strong bases for economic growth for the country in 2014. Armenia seems will continue to step headlong with declining socio-economic indicators throughout 2014.