The level of Kur River is to rise due to the intensive rains in the first decade of May and simultaneous growing of temperature and melting of mountain ices in Georgia.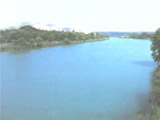 Ecology and Natural Recourses Ministry's press service told APA the level of Kur in Kur-Tbilisi point rose 60cm on May 2-4.
On May 7-10 the level of the River rose 134cm again. Near the Girag Kasaman point (Aghstafa) the level of Kur increased 26cm on May 1-2, 38cm on May 4-5, 92cm on May 7-11.
The level of Kur in the down stream is regulated by the water of Minghachevir and Araz Reservoir. In comparison with the corresponding period of 2006 the level of Kur was 141cm lower on May 11.
In result of water increase in Kur River in the recent 10 days the level of Shamkir Reservoir was 5.39 meter, the level of Minghachevir reservoir 0.98 meter and the level of Araz reservoir 2.49 meter due to the water increase in Araz River. At the present time the level of Shamkir Reservoir is 5.77, the level of Minghachevir is 2.15 and the level of Araz Reservoir is 0.23 meter lower than the project level. It is advised to regulate Minghachevir and Araz Reservoirs in coordinated way.
Due to the expected rains in the first half of the second decade of may Kur's level will rise and it will lead to floods in some areas near Kur River.