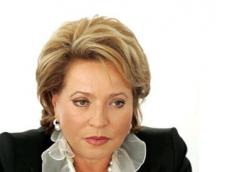 Press service of the Federation Council of the Russian Federation has extended an official statement concerning misinformation of the Armenian mass media on Valentina Matviyenko's statement allegedly made in Yerevan in connection with the Nagorno Karabakh problem.
AzerTAc presents the text of the statement without changes:
"In connection with dissemination in some Armenian mass media of the publication which allegedly presents statement of the Chairman of the Council of Federation V. I. Matviyenko on settlement of the Nagorno Karabakh problem, we consider necessary to explain the position of Russia on this question which has been sounded by the Speaker at meetings with representatives of leadership of the Republic of Armenia and during talk with journalists in the frame of official visit of delegation of the Federation Council to Yerevan on July 11, 2012.
Russia admits that settlement of the Nagorno Karabakh conflict can be reached only by the peaceful negotiation process, participants of which should be guided by norms of international law and relevant resolutions of the UN Security Council. The conflict solution should consider interests of Armenia and Azerbaijan, to be based on observance of known principles - non-use of force, respect for territorial integrity, equality and observance of the right of the people on self-determination.
We, therefore, consider important that the sides consistently bring closer their positions, overcoming deficiency of trust. Active intermediary efforts of the OSCE Minsk Group, and also a tripartite format of direct negotiations of the leaders of Azerbaijan, Armenia and Russia have to promote this. Thus, it is necessary to understand that intermediary efforts though are important element in move towards settlement, remain only means of adjustment of dialogue. Responsibility for the conclusion of the peace agreement lies on Armenia and Azerbaijan that has been underlined in the joint statement of the leaders of Russia, France and the USA, adopted at the G20 Los-Cabos Summit" – the statement says.
The point is that according to the Armenian newspaper "Graparak", Valentine Matviyenko during the dinner in her honor in "Old Yerevan" has allegedly stated: "All in the world perfectly understand that Karabakh never will return to Azerbaijan, while in Baku there are no politicians who can state it".
/
AzerTAc
/