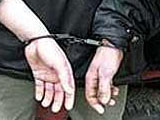 A phone call in Usolye-Simbirsk (Russia) made the whole local police force go crazy - a man called the station, stating he will blow up his car, with his 4 year old daughter inside. It was later found out, that the man was a 47 year old Azerbaijani. At the time of the call, the man was drunk, and wanted to meet with a Federal Security representative.
The police arrived at the place, and tried to negotiate with the drunk, yet nothing seemed to work.
"The man's relatives were also taken to the site, and even they couldnt make him come to his senses. The man started his car, accelerated, and just broke through the police guard on the square," reported the press-service.
Later on, when the car tried to escape, it was cut off by police cars. Trying to speed up again, the car jammed into the fense. No one was injured as a result of the incident, the man was detained by the police officers. A criminal case has been filed, the investigation is underway.
/Vesti.Az/