"The risk of becoming infected with intestinal bacterium the number of which exceeds normal, in seawater many times still exists," Republican Center of Hygiene and Epidemiology official Leyla Tagizade said.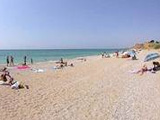 She said: People go to beach to escape heat, but this is not always safe thing to do. Those who rest in these beaches have been warned of risks that exist there.
The monitoring conducted by the Ecology Ministry has revealed that Sumgait, Shikh and Sahil beaches are the most polluted ones. The sea water in Sumgait contains E. coli and other harmful bacterias in the amount of 9,500-180,400 for a liter of water, 4500-11200 per liter of water in Shikh and 3,000-13,800 per liter of water in Sahil.
Norm of for E. coli in seawater is about 5,000 per liter of water. The most polluted beaches on the Absheron Peninsula are Novkhani, Pirshagi, Nardaran, Bilgah, Zagulba, Buzovna, Mardakan and Shuvalan.   
 /Trend Life/