Actions will be held on September 14-15 on the occasion of 87th anniversary of the release of Baku from occupation.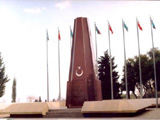 According to the information given to APA from the Turkish embassy in Azerbaijan, the Martyr's graves in Shamakhi will be visited together with the members of the "Enlightenment of Demobilized Militants" Public Union on September 14.
A commemoration ceremony will be held in the Martyrs Alley on September 15. Then a conference will take place under the organization of the Ataturk Center.