US embassy to Azerbaijan announced the opening of new round of Democracy commission of program of small grants. According to agency Trend, press service of embassy informed, proposals on projects are to be adopted 25 March-19 April.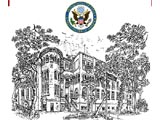 Interested Azerbaijani Organizations are invited to submit proposals to fulfill the following projects:
1. Promoting the Rights of Women, youth and children and their participation in society;
2. Developing women's and minority groups' capacity for leadership and entrepreneurship
3. Creation of inter-regional organizational ties;
4. Create of national media-programs, focused on parliamentary election dialogue.