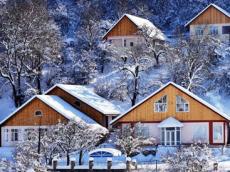 By AzerNews

The city of Guba in Azerbaijan has been chosen as the "Youth Capital" of 2014.
About 600,000 people took part in the an internet poll conducted as part of "Azerbaijani Youth in 2011-2015" state program. The voters could pick up one out of fifteen cities offered.
After the voting, Head of the Guba Youth and Sports Department Mustafa Nohbalayev was awarded a key, symbolizing the victory of the city.
The voting of the "Youth Capital" is held regularly to expand the scope of programs for the youth. It paves the way for more active participation of young people in the social, political and cultural life of the Youth Capital. Moreover, the city pays more attention to implement creative ideas for involving young people in social life.
The process of selecting "Youth Capital" is carried out in two stages. At the first stage the organizing committee, according to the documents, offers a list of cities and regions, and at the second stage, internet voting takes place.
Earlier, Azerbaijan's "Youth Capital" was respectively Ganja (2012) and Bilasuvar (2013).
With its amazing nature, Guba, located on the north-east of Azerbaijan at the distance of 168 kilometers from Baku, is one of the favorite tourist destinations.
The beautiful mountainous Khinalig village, located at the territory of this district stands at the altitude of 2500 meters above sea level. The population of this settlement is an ethnographic group. They speak an archaic language like no other modern languages. Moreover, the famous Krasnaya Sloboda (Red Village) which is a home to one of the larges communities of Mountain Jews in the world is also located in Guba.
Some amazing architecture like Juma mosque, the mausoleum of the 16th century, Sakina Khanum mosque and ancient baths are located in the vicinity of the city, which also has a historical museum of famous public figure of the 20th century, educator and writer Abbasgulu Aga Bakikhanov.
Guba was visited by legendary French writer Alexander Dumas, his Russian counterpart Alexander Bestuzhev - Marlinskiy and famous Norwegian scientist and traveler Thor Heyerdahl, who believed that Aesir, mentioned in the Poetic Edda, which is a collection of Old Norse poems, were the most ancient ancestors of Azerbaijanis, who moved to northern Europe during the Great Migration.
The beautiful Azerbaijani region is also famous for its apples which have long become its symbol. Guba residents confirm that there are more than 40 different varieties of apples. Besides, Guba is a recognized center of carpet weaving. Meanwhile, local people believe that traditional Chichi, Ag Gul and Pirabadil carpets are unique across Azerbaijan.