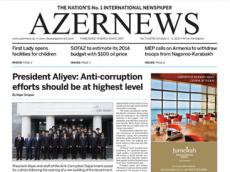 A new print edition of the AZERNEWS online newspaper was published on October 2.
The new edition includes articles about the easing of the rules on refugees' employment in Azerbaijan, the state oil fund SOFAZ`s estimation of the 2014 budget, exploration of geothermal water energy in the country, development plans for the Ordubad gold deposit in Nakhchivan, the Baku international tourism film festival due in November, Days of Azerbaijan held in Indonesia within the framework of Islamic Solidarity Games, etc.
AZERNEWS is an associate member of the World Association of Newspapers and News Publishers (WAN-IFRA).
The online newspaper is available at
www.azernews.az.