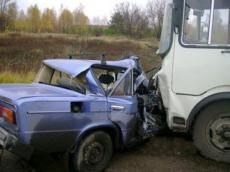 A terrible traffic accident happened in Azerbaijan, State Traffic Police Office reported. The accident happened on Baku-Gazakh-Georgia highway.
A passenger bus collided with VAZ-2106. All the passengers of VAZ -2106 Huseynov Anar Hidayat, Babayev Murad Abulfaz, Babayeva Chichak Nazim, Nagiyeva Leyla Nazim and Nagizadeh Nagi Idris died on the spot.
Criminal case has been launched on the fact, investigation is underway.

/APA/