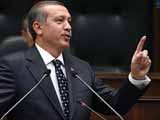 If Turkey is not included into the European Union as a full member, then the EU itself will suffer, but not Ankara, Prime Minister Recep Tayyip Erdogan said at a press conference in Sarajevo, CNN Turk reported.
"I am sure that sooner or later Turkey will become an equal member of the European Union. This day is near. The EU willonly be a Christian club without Turkey," Erdogan told media.
Since 1999 Turkey has the status of candidate-country for joining the EU. Formal talks on joining have been held since 2005. Turkey's joining the EU will entail the mutual economic benefit. Ankara will significantly expand the EU internal market and provide European companies suffering from the rapid aging of the indigenous population with labor power. An additional advantage may occur because the Turks have no problem with the skills, education and understanding of the secular traditions of Europe.
However, negotiations have stalled because of several issues, such as uncertain status of the Turkish part of Cyprus and Turkey's refusal to open transport links with Greek Cyprus, as well as issues of human rights in Turkey.
Turkey is a part of the key European organizations. Since 1949, Turkey is a member of the Council of Europe (the first pan-European organization for the protection of European values), since 1952 - a member of the main European security organization - NATO.
/
Trend
/