Amid threats by Israel and certain powers of a military assault on Iran, a top Iranian commander has warned such countries of "destruction and collapse."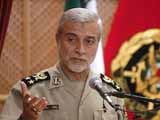 "We warn aggressive countries which have attacked our neighbors that they will face destruction should they make any mistake," Commander of the Iranian Army Major General Ataollah Salehi said on Monday.
"We will not allow aggressive powers to launch any attack on Iran while we know that our neighbors will never assault the Islamic Republic," he added.
The Army commander expressed Iran's readiness to counter aggression "not only to defend our land but to defend the ideals of all Muslims."
Salehi slammed remarks by "inexperienced" officials of Israel and "arrogant powers" against Iran, saying, "Their statements are within the prestige of their countries' diplomacy but have no military aspects at all."
Israel, reported to have the region's sole atomic arsenal, has repeatedly threatened Iran with a military attack, arguing that the country is seeking to develop nuclear weapons.
Plans for a military attack against Iran have gained momentum in Tel Aviv over the past few months.
On November 7, Israeli Deputy Foreign Minister Danny Ayalon warned Iran that Tel Aviv's persistent threats of military action were not just a bluff.
Iran, a member of the Nuclear Non-Proliferation Treaty (NPT) unlike Israel, views the claims as "unfounded and baseless as the non-diversion of Iranian nuclear materials has been repeatedly verified in unannounced visits by UN inspectors.
/Press TV/