Chief of the Turkish parliament gathered Monday with a group of Croatian lawmakers in the Turkish capital, Ankara.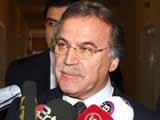 Turkish Parliament Speaker Mehmet Ali Sahin met with Frano Matusic, chairman of the Croatian Parliament's Foreign Affairs Committee, and an accompanying group of Croatian lawmakers.
Speaking at the meeting, Sahin said Turkey attached great importance to peace and stability in southeast Europe, adding that his country appreciated Croatia efforts to overcome problems with its neighbors in the region.
"We would like to see that stability and lasting peace prevail in Southeast Europe. Latest development in Bosnia-Herzegovina have taken a crucial turn, and they need to be handled carefully otherwise the Balkans could face serious problems," Sahin said.
"It is important that Bosnia-Herzegovina's territorial integrity, independence and its internationally recognized borders should be protected, which is a responsibility of all the peoples of the region," he said.
Sahin criticized the European Union's failure to include Bosnia-Herzegovina on its Schengen Whitelist -- a project to contribute to the abolition of the visa restrictions for the Western Balkans -- as well as NATO's denying of a membership action plan for the country.
"Those developments have discouraged Bosnian people. Steps should be taken in the shortest possible time to contribute to the country's reform efforts," Sahin said.
Matusic said Croatia shared Turkey's views over Bosnia-Herzegovina as Croatians formed one the of the three founding peoples in Bosnia-Herzegovina.
"Our position is the same with Turkey's. The protection of Bosnia's unity is crucial for us, too," Matusic said.
/World Bulletin/