Kazakhstan expressed its wish to carry out joint maneuvers with Turkey.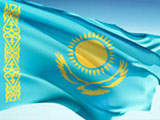 Defense Minister Adilbek Dzhaksybekov of Kazakhstan said after his meeting with Turkish Ambassador in Astana Atilla Gunay that they aimed at further developing their military cooperation with Turkey.
Dzhaksybekov said, "we want to carry out joint maneuvers with the Turkish Armed Forces as a new aspect of our military cooperation. Turkey is one of priority partners of Kazakhstan in the area of defense."
He said that Kazakh President Nursultan Nazarbayev's recent visit to Turkey added momentum to the bilateral relations between the two countries.
More than 160 Kazakh officers have received training in Turkey since 2003. Currently, there are 60 Kazakh officers in Turkey for military training.
/World Bulletin/