Iran has received proposals worth around $20 billion for investment in its oil and gas sector from foreign companies, the Iranian oil minister has announced.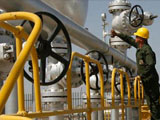 "Foreign investment in the oil and gas sector could surpass that level, should we agree with interested companies," said Masoud Mir-Kazemi on Monday at the sidelines of the international oil and gas conference in Tehran.
He added that foreign companies would invest via finance or the buyback method.
In November 2009, Iran had announced that an investment of $40 billion would be needed to develop the remaining phases of the giant South Pars gas field within 10 years.
Then in December, a senior Iranian energy official said that the country's gas sector needed to attract about $85 billion in investments within 10 years in order to maintain its export capacity.
"For the development of the country's gas exports in the next decade, about 85 billion dollars need to be invested," said Seyyed Reza Kasaeizadeh, Managing Director of the National Iranian Gas export company.
Iran has been facing US-led sanctions aimed to deter foreign investments. Washington has also been planning to increase its unilateral sanctions on the Islamic Republic's energy sector.
Nevertheless, Iran possesses the world's second largest gas reserves, which compose almost 16 percent of the world's total.
It also might be mentioned that Asian economies are more active in Iran's energy sector than those in other parts of the world and countries such as China, India and Turkey are considered to be less susceptible to US-led pressure.
/Press TV/