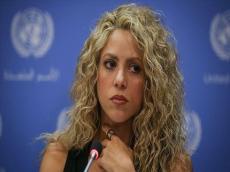 Shakira is facing a second tax fraud investigation after Barcelona prosecutors alleged on Tuesday that she defrauded Spain of €6 million ($6.4 million) worth of taxes in 2018, Azernews reports, citing Anadolu Agency.
The accusation comes just two months before Shakira will go to court to defend herself against charges of evading €14.5 million ($13.9 million) in taxes between 2012 and 2014.
In the new charges, prosecutors allege that the Colombian singer used a corporate web, primarily through a company in Luxembourg to avoid paying taxes in Spain, particularly related to the money she earned during her El Dorado tour.
Shell companies in Spain, the Netherlands, the British Virgin Islands, Malta, Panama, and Liechtenstein were also allegedly involved in the tax evasion.
In 2018, prosecutors say Shakira was living in Barcelona with her then-partner Gerard Pique.
They also allege that "motivated by her desire to avoid paying taxes," she willfully provided incomplete documentation to Spain, failing to report all of her earnings and deducting unrelated expenses.
Prosecutors are asking Interpol to notify the artist, who now lives in the US, about the two investigations – one for income tax fraud and another for wealth tax fraud.
A separate tax fraud trial for Shakira is set to begin in November. She faces up to eight years behind bars.
That case hinges on whether or not Shakira resided in Spain from 2012 to 2014. Prosecutors say she was a Spanish resident and needed to pay taxes, but the singer insists she was an official resident in the Bahamas.
Shakira is refusing to settle the case because, as she told Elle Magazine in 2022, she believes "these are false accusations."
"First of all, I didn't spend 183 days per year at that time at all. I was busy fulfilling my professional commitments around the world. Second, I've paid everything they claimed I owed, even before they filed a lawsuit," she said.
Shakira also told Elle that she was advised by PricewaterhouseCoopers, one of the world's four biggest tax specialist firms, so she was "confident" that she was "doing things correctly and transparently from day one."
Shakira also accused Spanish tax authorities of running "a salacious press campaign" against her and said they started "salivating" when they saw she was dating a Spanish citizen because they wanted her money.