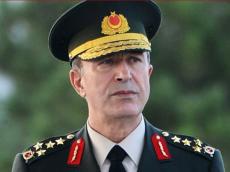 By  Trend
Chief of the General Staff of the Turkish Armed Forces Hulusi Akar is on a visit to Russia, said the Turkish General Staff in a message on November 21.
Akar will have a meeting with his Russian counterpart Valery Gerasimov.
Turkey, Russia and Iran will discuss the Syrian crisis during a meeting of the three countries' presidents in Sochi on Nov. 22, 2017.
Erdogan on Nov. 13 visited Sochi and during a meeting there with Russian president discussed the situation in Syria.
Syria has been suffering from an armed conflict since March 2011, which, according to the UN, has claimed more than 500,000 lives.