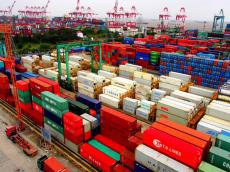 By Azernews
By Kamila Aliyeva
The export of Tajik industry products since the beginning of 2017 amounted to more than $1 billion, showing a 35 percent ($258 million) increase compared to the January-October 2016, according to the data of the Agency for Statistics under the President of Tajikistan.
The growth of the indicator is explained by the increase in the volume of exports of products made of stone, gypsum and cement, as well as precious and semiprecious stones and metals, mineral products, polymer materials and finished food products.
Meanwhile, imports of goods decreased by 10.5 percent (or $266 million) and for the same period amounted to more than $2.2 billion. Experts noted a significant reduction in imports of machinery and equipment, base metals, vegetable products, flour and wheat.
Foreign trade turnover decreased by 2 percent, that is $8 million, compared to the same period last year and amounted to $3.2 billion.
Russia remains the main trading partner of Tajikistan. Trade turnover between these countries for the first ten months of the current year amounted to $765 million, showing a decrease by 18 percent in comparison with the same period of 2016.
The active growth of trade turnover between Tajikistan and Kazakhstan registered an active growth in trade turnover as it increase by almost 30 percent this year. The volume of the Tajik-Kazakh trade turnover reached $673 million.
On the contrary, trade turnover with China this year fell by almost 40 percent and amounted to $471 million.
In 2016, Tajikistan's foreign trade turnover amounted to $3.92 billion. Almost a third of the volume of trade fell on Russia with which it reached $1.33 million. The second place in bilateral trade was taken by China ($885 million). Kazakhstan also entered the 'Top Three' with mutual trade at the level of $676 million.