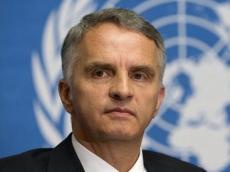 Didier Burkhalter, Swiss Foreign Minister and OSCE Chairperson-in-Office, expressed his deep concern about today's developments in Ukraine, and called on all sides to refrain from violence, according to a message from the OSCE.
"I was shocked and saddened to learn about the renewed violence and bloodshed on the streets of Kyiv," Burkhalter said. "This is a deeply worrying development."
Burkhalter, who discussed the situation with Leonid Kozhara, acting Foreign Minister of Ukraine, in a phone conversation, called "on all sides to avoid resorting to violence and to prevent any further escalation of tensions".
"I urge the authorities and the opposition to continue to engage in dialogue," Burkhalter said. He offered OSCE assistance in facilitating talks and reassured Kozhara of the OSCE's readiness to put at disposal its expertise. "All sides should recognize that political negotiations are the only way to resolve this crisis."

/Trend/