"Over 3,000 member of our party have been nominated for the municipal election," Azerbaijan's opposition Umid (Hope) Party Chairman Igbal Agazade said.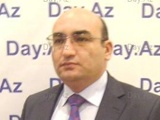 He said all candidates have been issued signature lists. "Many of them have already submitted them to the relevant bodies."
Umid Party candidates have been nominated for elections in 193 municipalities.
"Our candidates have been nominated in many areas in Baku, Zardab, Barda, Shamakhi, Gabala, Sheki and Balakan. The process continues. Most of our candidates are men. There are also more than a hundred women candidates. The candidates include also youth," Agazade said.
The party will decide on Nov. 13 how much money to allocate for the candidates, Agazade said.
Agazade also spoke about future of the opposition Movement for Karabakh and Republic.
"The fate of the Movement for Karabakh and Republic will be determined after the municipal elections," he added.
"Consultations will be held on this issue after the elections. Currently, no consultations are conducted," he said.
"Naturally, we hope the movement will continue activities. The Azerbaijani opposition has many times faced such situations. It will unite after a certain time again," the party chairman said.  
Musavat Party, member of the Movement for Karabakh and Republic, urged Umid Party to withdraw its members from the electoral commissions. Umid Party stated that it will do so if the members of the parliamentary group of the Musavat renounce their mandates. The recent tensions between the two parties has caused a serious crisis in the movement.
The Movement for Karabakh and Republic was established by the Azerbaijan Popular Front Party, Citizens and Development, Liberal, Democratic, Musavat, Umid prior to the referendum on amendments and additions to the Constitution which took place on March 18, 2009.
Azerbaijan will hold municipal elections on Dec. 23.
Day.Az