U.S military men will visit Azerbaijan in an effort to get familiar with training of a marine battalion of the Azerbaijani Naval Forces, the Azerbaijani Defense Ministry said.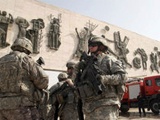 The U.S. Navy delegation will pay a visit to Baku on Sep.14 to 18. After getting familiar with the combat activities of the marine battalions of the Azerbaijani Naval Forces, they will make their own recommendations.
Under the U.S. - Azerbaijani bilateral military cooperation program, during the visit experts from the U.S Navy will assess ability of the Azerbaijani Marine Special Forces to render ammunition harmless," the ministry said.
/
Trend News
/