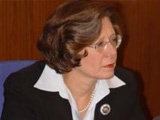 "The visit of the head of electoral administration of US president Barack Obama David Plouffe to Azerbaijan was not a secret mission, said US ambassador extraordinary and plenipotentiary to Azerbaijan Anne Derse commenting on the statements of a number of experts that Plouffe's visit to Azerbaijan was held by a special instruction of President Barack Obama and contained a special mission aimed at holding talks with the Azerbaijani leadership in particular President Ilham Aliyev.
"These talks are of speculative nature. These are just senseless talks", said she.
According to Derse, Plouffe came to Azerbaijan as a simple citizen of the United States.
"He was just the head of the electoral staff of President Obama. Naturally his visit was coordinated with the US powers but it contained no factors of secret  mission", noted the ambassador.
According to Derse, while being in Azerbaijan Plouffe appealed to the population with a request to take an active part in the regulatory processes.
"At the same time, this appeal was aimed at the use of democratic technologies, improvement of the voting process", noted the ambassador.
/Day.Az/