The office of EU European Commission was inaugurated in Baku, APA reports.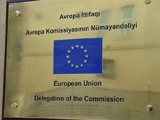 European Commissioner for External Relations and European Neighbourhood Policy Benita Ferrero-Waldner said the inauguration of the office demonstrates the attitude of the organization towards Azerbaijan.
"The European Union promised to the Azerbaijani government to open the office long ago and I have done my best to fulfill this promise. I believe that this office will be a coordinating point between the European Commission and Azerbaijan," she said.
Benita Ferrero-Waldner said this office will later become the office of the European Union and introduced Allan Waddams as the head of the diplomatic mission.
She noted that Allan Waddams has not been officially confirmed as the ambassador.
Deputy Prime Minister Abid Sharifov said they awaited inauguration of this office for more than ten years.
"It was Azerbaijan's will to open the office of European Commission. It serves Azerbaijan's interests and will play an important role in the execution of the country's commitments undertaken in the framework of the European Neighbourhood Policy," he said.
President of the EU General Affairs and External Relations Council, Slovenian Foreign Minister Dimitrij Rupel said the office will play the role of an office spreading information about the European Union and an agency releasing truth about Azerbaijan. He did not rule out the probability of Azerbaijan's accession to the European Union.
/APA/