Venezuela's foreign minister was detained at a New York airport on Saturday, prompting an apology from the U.S. government and compounding already tense relations between the two countries.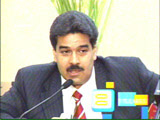 In New York, State Department spokesman Gonzalo Gallegos said the United States regretted the incident involving Foreign Minister Nicolas Maduro at JFK airport.
"The United States government apologized to Foreign Minister Maduro and the Venezuelan government," said Gallegos.
Venezuelan television said Maduro was stopped for an hour and a half and stripped of his travel documents.
"We denounce the U.S. government for violating international law," Maduro told Venezuelan television from New York, asking U.N. Secretary-General Kofi Annan to condemn his seizure.
Venezuela's Foreign Ministry said Maduro would not be returning to Venezuela on Saturday night.
The State Department said airport security had questioned the foreign minister and then U.S. diplomatic security was sent to the airport to resolve the issue.
The minister was told he could board the plane before it took off but he chose instead to return to New York City, the State Department added.
"This is a provocation from Mr. Devil," Venezuelan President Hugo Chavez told Venezuelan state television, using a name he called President Bush at the U.N. General Assembly this week. Maduro had also been attending the U.N. meeting.
/Reuters/