The USA President George Bush will meet member of "YeS" coordination council, former chairman of ANIP Etibar Mammedov who is to visit Washington on 18-19 July.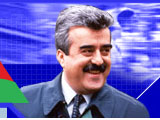 APA was informed by secretary of ANIP chairman on international matters Fuad Mukhtarov. According to him, Etibar Mammedov will visit the USA on 18-19 July to attend International Democrat Union Leaders' Meeting in Washington.
The USA President George Bush stated in his letter sent to International Democrat Union that he will meet the party leaders, as well as Etibar Mammedov in the Leader's Meeting. George Bush noted in his letter that, he is looking forward to speaking with the party leaders at the International Democrat Union Leaders' Meeting. "I want to discuss the marching of freedom from democratic revolutions in Eastern Europe to free elections in the Middle East with you in this meeting.
This meeting will give us an opportunity to reaffirm our shared belief in the imperative of self-government and to discus recent positive developments in the spread of democracy and free markets around the world. I am pleased by the interest of IDU parties worldwide in our Leaders' Meeting, and look forward to welcoming you back to Washington".  
Etibar Mammedov's visit programme also includes attending breakfast for the leaders in the White House in which the USA President George Bush will also participate on 19 July.