Interior Minister, colonel-general Ramil Usubov today received Interior Minister of Pakistan Mr.Aftab Ahmad khan Sherpao who is on a visit to our country.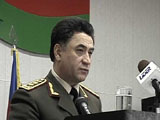 APA was informed from the press service of the Interior Ministry.
The Ministers exchanged opinion on the situation and the results of the struggle against criminality in their countries during the meeting. They discussed the perspective of the bilateral relations, international terrorism and the measures taken in the frame of intergovernmental treaties on the cooperation in the field of struggle against organized crime. Pakistani Minister stated that his country supports the position of Azerbaijan in the matter of Nagorno Karabakh.
Joint Declaration was signed in the end of the meeting attended by ambassador of Pakistan in our country Muhammad Hafiz and Azerbaijani ambassador to this country Eynulla Madatli, too.
It must be mentioned that, Pakistani delegation led by Interior Minister Aftab Ahmad khan Sherpao has visited Azerbaijan on the invitation of Interior Minister Ramil Usubov. The visitors visited the tomb of the late President Heydar Aliyev and laid a wreath on the tomb. They also visited the Alley of Martyr's.