Greece is ready to assist in Azerbaijan's integration to the Euro-Atlantic bodies to enable Azerbaijan to take the deserved place among the European nations, Themistokles Dimidis, the Greek Ambassador to Azerbaijan, said while presenting his credentials to Azerbaijani President Ilham Aliyev.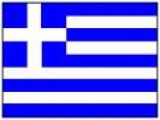 The relationships between Azerbaijan and Greece develop in condition mutual confidence, he diplomat noted. "The opening of the Greek embassy in Azerbaijan in 1993 demonstrated the Greek government's attention towards the consolidation of mutual relationships between the two countries.
The diplomat voiced his confidence that the forthcoming visit of Azerbaijani President to Greece will once more testify the high level bilateral political cooperation and promote the trade and economic cooperation.
Dimidis, 56, is a lawyer by profession, graduated from the Law School of the Athens University. He started his diplomatic carrier in the Foreign Ministry of Greece in 1980. He worked as the First and Second Secretary of the Greek Embassy in Bonn, Consul General of Greece in Jerusalem, Director of Eastern Europe and Central Asia Directorate, and speaks English, German. He is married with one daughter.