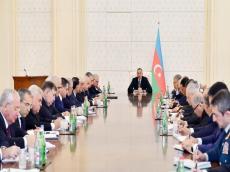 By Azernews
By Nigar Abbasova
Preservation of monetary reserves was the primary issue for Azerbaijan in 2016.
The statement was made by President Ilham Aliyev during a meeting of the Cabinet of Ministers, dedicated to the social and economic development of Azerbaijan in 2016 and the tasks ahead on January 10.
"We have managed to cope with the problem. I would like to draw attention on ongoing global processes. Monetary reserves of all oil-rich countries have dropped significantly. Reserves accumulated in oil funds, sovereign funds, pension funds and other similar organizations have reduced sharply. In Azerbaijan, we have managed to preserve revenues of the Oil Fund, while the drop in their volume amounted to only 4 percent. Our reserves are kept in dollars, Euros, and British pounds. Reserves of our Fund dropped due to the strengthening of the dollar and weakening of other currencies against the greenback. We would not experience even this slight reduction should the exchange difference did not appear," the head of state said.
He noted that the current dollar reserves of the State Oil Fund of Azerbaijan (SOFAZ) amount to $33 billion.
 "We have managed to preserve them and I am confident that we will increase them this year. Of course, one of the easiest ways of recovering out of the crisis is the expense of monetary reserves. But we are thinking about the future and our strategy has a long-term character. Today, we preserve our funds and we should augment them in the future.   
The presidential decree earlier approved revenues for 2017 at 8,370,589,800 manats and expenditures at 14,483,856,000 manats. The fund's transfers to the 2017 budget are forecasted to stand at 6.1 billion manat ($3.7 billion), while assets are planned to increase by $1 billion in 2017.
SOFAZ was established in 1999 with assets of $271 million. Based on regulations, its funds may be used for the construction and reconstruction of strategically important infrastructure facilities, as well as solving important national problems.