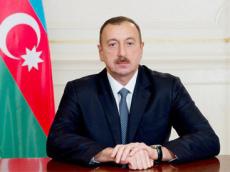 The II Global Shared Societies Forum kicked off in Azerbaijani capital of Baku on Monday, April 28.
The forum's opening ceremony was attended by Azerbaijani President Ilham Aliyev.
The forum is being attended by former heads of states and governments, who are the members of the Nizami Ganjavi International Center, Club of Rome and Club of Madrid, over 150 prominent public and political figures from 54 countries.
The forum's agenda includes such issues as foundations of open societies, conflict settlement methods in difficult situations, multi-governance for ensuring sustainable development process and the need for institutional frameworks, as well as other important issues.
The forum is planned to hold broad discussions on such issues as practical work in the area of domestic economic growth policy, creation of conditions for high-quality education and other social services, strengthening the role of women in society, as well as the natural resources for sustainable development and the role of global boundaries, clean technologies and unity of "green energy".
During the discussions on the conflict settlement in difficult situations, the rapporteurs will share their experience and knowledge in the conflict settlement and social integration area, and will exchange views on the basic principles of integration and openness, which may be useful in addressing the existing problems.
The first session of the 2nd Global Shared Societies Forum was held on May 6-8, 2013 in Baku.

/Trend/