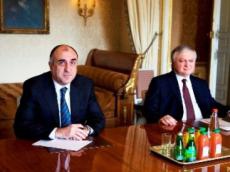 The Foreign Ministers of Azerbaijan and Armenia agreed to meet in Moscow in early April in preparation for a meeting of the Presidents in the near future, according to a press release of the OSCE.
The Co-Chairs of the OSCE Minsk Group (Ambassadors Igor Popov of the Russian Federation, Jacques Faure of France, and James Warlick of the United States of America) met separately with President Serzh Sargsian of Armenia and President Ilham Aliyev of Azerbaijan in The Hague on March 23-24. The Personal Representative of the Chairman in Office, Andrzej Kasprzyk, also attended the meetings.
The Co-Chairs informed the Presidents of the work done with the Foreign Ministers on the issues raised during the summit meeting in November, OSCE said.
They emphasized the need to avoid violence on the border and the Line of Contact, and encouraged the sides to refrain from inflammatory rhetoric that could increase tensions in the region.
The conflict between the two South Caucasus countries began in 1988 when Armenia made territorial claims against Azerbaijan. Armenian armed forces have occupied 20 per cent of Azerbaijan since 1992, including the Nagorno-Karabakh region and seven surrounding districts.
Azerbaijan and Armenia signed a ceasefire agreement in 1994. The co-chairs of the OSCE Minsk Group, Russia, France and the U.S. are currently holding peace negotiations.
Armenia has not yet implemented the U.N. Security Council's four resolutions on the liberation of the Nagorno-Karabakh and the surrounding regions.

/Trend/