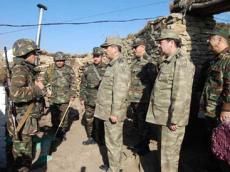 By AzerNews

Defense minister, Colonel-General Zakir Hasanov was briefed on the situation in military units in the contact line between Azerbaijani and Armenian troops, the Defense Ministry reported on March 6.
He also held meetings with soldiers and officers on combat duty.
Hasanov also got acquainted with the combat readiness, the possibilities and effective-use of the modern armored vehicles on the front line, high-level organization and implementation of combat duty, as well as the moral and psychological condition of the servicemen.
The minister further gave relevant instructions in regards to strengthening discipline, serious observance of safety rules during the use of military equipment, improvement of the social conditions of the servicemen, and increasing attention to their health.
Hasanov began his visits to the frontline military units, following his appointment as Azerbaijan's defense minister in late 2013.
He has visited several military units in different regions of the country so far.
Armenia occupied over 20 percent of Azerbaijan's internationally recognized territory, including Nagorno-Karabakh and seven adjacent regions, after laying territorial claims against its South Caucasus neighbor that caused a brutal war in the early 1990s.
The UN Security Council's four resolutions on Armenian withdrawal have not been enforced to this day.
Peace talks, mediated by Russia, France and the US and the OSCE Minsk Group are underway on the basis of a peaceful outline -called Madrid Principle -proposed by the Minsk Group co-chairs. The negotiations have been largely fruitless so far.