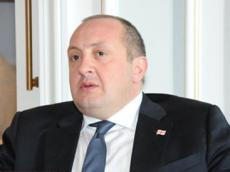 Georgian President Giorgi Margvelashvili sees his visit to Azerbaijan as an opportunity for further rapprochement between the two fraternal peoples of Georgia and Azerbaijan.
President Margvelashvili is on an official visit to Azerbaijan.
"The visit started very nicely when I met Azerbaijani President Ilham Aliyev, and we immediately established friendly and cordial relations. This is probably because of unity in views and positions," Margvelashvili told
Trend
in an interview on Feb. 12.
"You know that we now represent the new government. Our intentions particularly include the continuation of significant projects between Georgia and Azerbaijan, which can already be called historical, and deepening of cooperation, by means of finding new opportunities and ways of development," the Georgian president said.
Margvelashvili said both Georgia and Azerbaijan, as well as the people of the two countries have long been showing an example of good neighborly relations, which positively affect the development of the entire region.
"Our relations develop in economy, energy, cultural sphere, educational sphere and transport cooperation, the president noted.
"This is what is called "people to people" - a whole spectrum of opportunities that are basically inexhaustible."
Margvelashvili said Georgia has stressed its commitment to good neighborly relations, partnership and strategic partnership with Azerbaijan and initiated a dialogue on intensifying existing relations.
Regional cooperation
The president noted that Georgia have actively participated in all energy projects since the 90's and has been developing these projects jointly with Azerbaijan.
"We showed how much we are committed and interested in keeping those principles and agreements, which exist between us," Margvelashvili said, adding that work on deepening these processes is currently underway.
"The Shah Deniz project, like other joint energy and transport projects, is significant not only for Georgia and Azerbaijan. These projects are very significant for many countries and millions of people, living beyond the region," Margvelashvili said.
The president believes that such projects create stability, peace and potential in the region, which can be beneficial.
Margvelashvili stressed that during today's talks with Azerbaijani President Ilham Aliyev it was noted that the common objective is to make the Caucasus to be heard about only within the aspect of new opportunities and new potentials.
"We are both committed to the idea that a peaceful Caucasus is what the world needs to hear about and see our region from the point of view of prospects and opportunities," the Georgian president said.
Baku-Tbilisi-Kars railway project
Margvelashvili called the Baku-Tbilisi-Kars railway project historic, because it changes the geopolitics of the whole region - Asia and Europe.
"The project includes Georgia, Azerbaijan and Turkey, and is a bridge between the two continents - Asia and Europe," he said.
Margvelashvili added that the project is at an intensive development phase, and the first very interesting transport projects will be connected with this railway in the near future.
"The withdrawal of the NATO ISAF mission's troops from Afghanistan will start soon, and we provide the opportunity to withdraw them using this transport corridor too. However, this is only the beginning," the president said.
He stressed that thanks to this historic project, Turkey, Georgia and Azerbaijan create a link between the enormous potential of the Black Sea and Caspian Sea region and the resources existing in Asia and Europe.
"This collaboration creates a background of stability in the South Caucasus region. We hope that this stability background will help to ensure that our region will be seen only from the perspective of future development and future opportunities, and we talked about this with President Ilham Aliyev," Margvelashvili said.
Humanitarian ties

The president of Georgia added that such big geopolitical projects will not replace those friendly relations that exist between Georgian and Azerbaijani peoples.
"There are huge important projects that connect continents, but the cultural ties linking Georgia and Azerbaijan are also very significant. We do not want to belittle the role of cultural relations and the opportunities that are created between the two nations in fields of education, science and personal relationships. I am very happy that today, speaking about these major projects, we not only did not forget, and even particularly stressed the importance of cultural ties between Azerbaijan and Georgia," President Margvelashvili said.