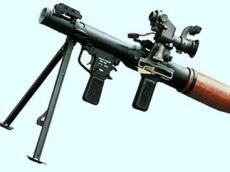 The Optical-Mechanical Manufacturing Association of Azerbaijan's Defense Industry Ministry has produced universal optimal sights for RPG-7V3 grenade launchers.
APA
reports that these sights differ from the analogues with its modularity.
Azerbaijan-made optical sights are capable for accurate shooting and targeting both in daytime and at night.
The new sight consists of GON optical sight and A-100 night vision monocular. A-100 electronic device included in the system receives stars and moon light reflections from surrounding objects and provides the visibility of surrounding objects. In the absence of lighting, the device is capable of operating in the infrared spectrum.
Another peculiar feature of the device is that when shooter's eye moves away the eyesight, the protective cover closes automatically. The equipment doesn't spread radiation (even infrared light). When shooter's eye moves closer to the eyesight, the protective cover reopens and becomes ready for use.
The optical sights have already been included in the arsenal of Azerbaijan's Armed Forces