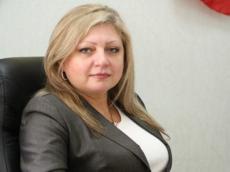 By AzerNews
Moldovan Ombudsman held a meeting with the representatives of Azerbaijani NGOs and media outlets in Baku on November 2.
Thanking the Azerbaijani government, Aurelia Grigoriu said that work for settling the Nagorno-Karabakh conflict must begin, because justice is on the side of Azerbaijan.
Grigoriu visited Azerbaijan to participate in the third Baku International Humanitarian Forum.
Saying that the UN Security Council held an unfair position in a number of cases, Grigoriu suggested that Azerbaijan take the initiative in fundamentally changing the structure and mechanisms of the UN.
"Armenia refuses to comply with the UN Security Council's resolutions on the liberation of Azerbaijan's occupied lands, that is why I call on Azerbaijan to take the initiative in changing the mechanisms of the UN," Grigoriu said.
She also said that work must be done for the resolution of the Nagorno-Karabakh conflict and the recognition of Khojaly tragedy -a massacre committed by Armenian armed forces against Azerbaijani civilians during the 1990s war.
Speaking at the event, Azerbaijani Ombudsman Elmira Suleymanova said Azerbaijan's main problem was the occupation of its territories by Armenia.
She said that the conflict remained unresolved because of Armenia's disregard for the resolutions of international organizations.
Suleymanova also said that the number of Azerbaijan's supporters in this case was growing.
"There were also ombudsmen who supported us, but Aurelia Grigoriu raised this issue in the Armenian Parliament based on facts and in full accordance with the truth. But the Armenians, unable to say anything, again demonstrated their insidious policy to the entire world and showed aggression against a representative of another country," Suleymanova said.
According to her, Grigoriu demonstrated great courage and did what had to be done by an ombudsman.
"We appreciate Grigoriu and express our gratitude," Suleymanova said.
Azerbaijan National NGO Forum and other NGOs awarded Grigoriu a number of prizes for her protection of human rights, especially the rights of Azerbaijani people. Grigoriu was granted the Tarixi ?mza (Historical signature) award, which was presented for the first time.
Moldovan Ombudsman was also awarded the Honorary Medal of the Azerbaijani parliament.
On July 4, Grigoriu addressed an international conference organized by the Constitutional Court of Armenia.
She blamed the Armenian government for the occupation of Azerbaijani territories and the genocide of the Azerbaijani people in Khojaly in February 26, 1992, labeling it as an act of aggression and emphasizing that Armenia did not comply with international law.
The Moldovan ombudsman faced threat of prosecution and even blackmail, was urged to extend an official apology to Armenia, and was threatened with revenge upon her refusal.
Armenia occupied over 20 percent of Azerbaijan's internationally recognized territory, including Nagorno-Karabakh and seven adjacent regions, after laying territorial claims against its South Caucasus neighbor that caused a lengthy war in the early 1990s.
The UN Security Council has adopted four resolutions calling for Armenia's withdrawal from the Azerbaijani territory, but they have not been enforced to this day.