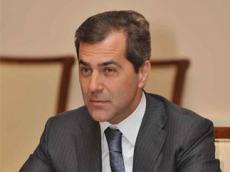 Introduction of Orkhan Zeynalov, Azerbaijani citizen suspected in a murder, as a criminal by media outlets are contrary to the presumption of innocence, Chairman of Azerbaijani State Committee on affairs with Diaspora Nazim Ibrahimov said, AzerTag state news agency reported.
Last week, a 25-year-old Russian citizen from Moscow, Yegor Shcherbakov, was killed in the Biryulevo district which stirred up public resentment and eventually led to riots. On October 15, the police detained Azerbaijani citizen Orkhan Zeynalov in the Moscow vicinity on suspicion of the murder and brought him to the capital.
The Azerbaijani side sent a note to the Russian Foreign Ministry on October 16, with the request of the provision of consular assistance to Zeynalov.
Ibrahimov said that publicizing the crime committed in everyday occurrence in the ethnic context causes a concern.
"I think that the concern of Azerbaijani state and public is natural. But I must regretfully say that when the mass media openly carries out anti-Azerbaijani campaign, positions of representatives of some Diaspora organizations, more concretely the Federal National-Cultural Autonomy of Russian Azerbaijanis (AzerRos) and the so called Union of Azerbaijani Organizations in Russia, are unclear," he said.
Ibrahimov went on to say that persons who are represented in the top management of those organizations have very good relations with Russian relevant governmental structures and mass media.
"But in case of need, those people do not consider to use those relations for protection of Azerbaijanis` interests necessary just now.
"The previous events once more proved that the foundation of the Union of Azerbaijani Organizations in Russia was the unimportant initiative from the viewpoint of Azerbaijanis` national interests. I consider that in this case every Azerbaijani must protect interests of the Azerbaijani community, do a real work, but not make irresponsible statements," he said.
Ibrahimov reminded that the Diaspora Committee set up a working group in order to strengthen the legal awareness work among Azerbaijanis living in Russia.
"Besides, the Committee plans to implement joint projects with the Russian government to support the integration of Azerbaijanis into the society and develop the dialogue climate between the Azerbaijani community and the native people. There is an initial agreement. I think, such joint measures will give an impulse to developing relations between the Azerbaijani community and the Russian society and it is also appropriate for the spirit of the relationship between our countries," he emphasized.

/AzerNews/